1. Do I need my own mat?
No, we have all the equipment you need here at the studio. We have two mats stacked on the floor for each person and environmentally friendly cleaner provided to wipe off mat and props after you're finished.
2. What do I wear?
Comfortable clothing that is easy to move in. Slim fit clothing (tights or shorts and slim T) is easier for us to asses how well you are moving.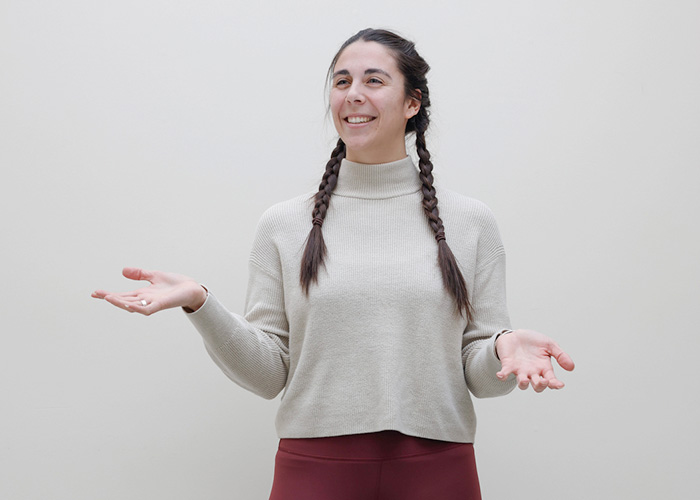 3. Will I need more than ONE private session?
If you are coming injury free and pain free sometimes one private session is enough to prepare you for group classes. Most commonly we see new clients for 10 private sessions so we can make the best recommendation on moving forward onto more private sessions or group classes.
4. How often do I need to come to Pilates?

We recommend a minimum of one private session per week. The more you come to Pilates the faster we can make some changes to your strength, alignment and moving better. If group classes are your thing one – two classes a week are ideal.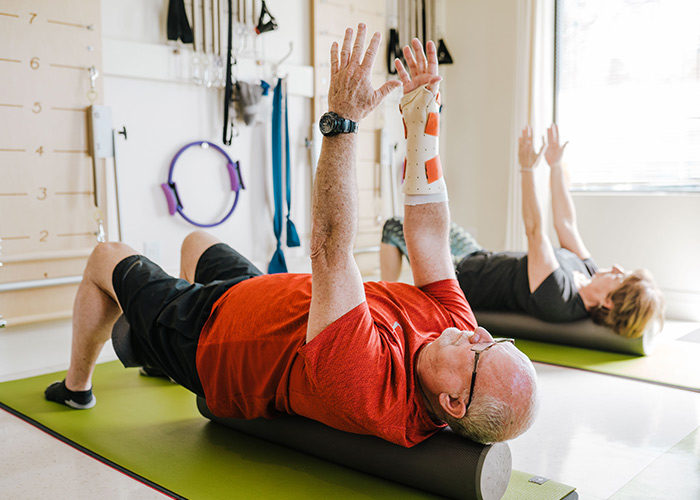 5. If I want to do semi private sessions do you have people looking for a Pilates partner?

We recommend recruiting your own friends or family members to work with you in a semi private sessions. We do not pair people up. Consider it like dating we want you to find someone that you feel comfortable spending an hour with every week.
6. Will I get to use all the different Pilates equipment and machines?

Over your first 10 private sessions we make an effort to spend one session in each room to introduce you to all the equipment. You cannot request to be in the same room or use the same equipment for every session. We have a variety of equipment to challenge your body and your brain to help you build strength and move better. However, if your injuries limit you from getting up and down off the floor or if balance is a major issue you may NOT be ready to try all the different equipment and machines within the first 10 sessions.
7. Is this covered by my extended benefits?

Sometimes Pilates is covered by extended benefits if you have coverage for preventative care like gym memberships or personal training. We do NOT have a physiotherapist on staff who can diagnose and recommend a treatment plan which allows for more benefit coverage of Pilates.
8. How long will it take me to recover from the injury, pain or reason why I came to Pilates?

We recommend 10 sessions to give you an idea of what it is that we do here at Therapeutic Pilates. Sometimes people feel better after their first session but the results are not permanent after one session. It takes time to teach the brain and the body to move better. We often see clients for one year or longer to see lasting strength and movement changes in the body. It took you months or years to develop the injury or pain and it commonly takes months or years to build the strength and new habits to help you move better.
9. Can I still do Pilates if I'm scheduled for a knee or hip replacement? Or if I have recently had a joint replaced?

Yes!!! We would love to see you before your surgery to help you move better and implement good patterns and strength changes before being cut. We can make adjustments to your Pilates plan if coming to us right after surgery as well, teaching good alignment and proper movement patterns right after surgery can help lower rehab time and prevent compensatory movements and habits from becoming future issues.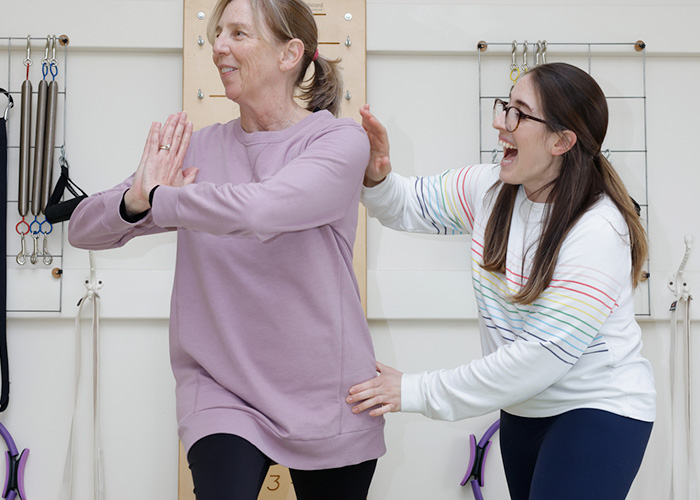 10. Will I lose weight doing Pilates?

Pilates is NOT considered a weight loss program, we do however help align your body for efficiency and better movement helping you to take on more intense forms of exercise or sports. We also encourage a well balanced diet or seeking more support from a professional for better nutrition.
11. Is Yoga the same as Pilates?

They are similar in that both methods of exercise place importance on being mindful and focused on what you are doing. Pilates is most similar to Iyengar Yoga. We feel Pilates is for everyone and consider ourselves the foundation to good movement for all other forms of exercise. Concentration, control, centering, breathing, alignment, precision and endurance are all principles of Pilates to help us teach you to move better.
12. Do I have to stay with the same Pilates instructor?

No. In fact we encourage you to work with a new instructor if you don't feel its the right fit OR to help your body and brain to keep learning new skills. Each instructor tends to have a different style and focus so working with new teachers can help you move better by challenging you in different ways.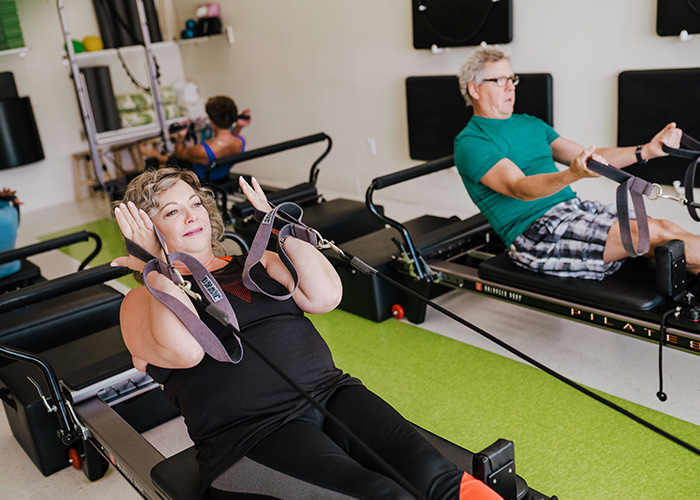 13. Which group class is right for me?

After your initial session and assessment we can make a recommendation. Commonly we recommend starting in Reformer or Mat classes.
14. How many people are in the group classes?

Classes range from 4-9 people. We require a minimum of 2 people in Reformer classes and 3 people in Mat or Springboard classes to run the class. Maximum of 4 people in Reformer and 9 in Mat and Springboard. Our small group classes help to keep instructors focused on your movement patterns and getting the most out of each class.
15. Can I still work out and do the sports I love while taking Pilates?

Yes definitely!
16. I have heard the movements are small and slow. Will I have to think a lot?

Yes. Focus is key in Pilates and we are here to help you feel the most out of each session and teach you to be more in tune with your body.
17. Where does Physiotherapy stop and Pilates begin?

Often we see clients after they have finished their recommended physio post injury or surgery. We look at the whole picture, the whole body to help you continue to move better. We can also work with you at the same time as you go to physio as long as your practitioner is comfortable with this scenario.
18. Will it conflict with Chiro, Osteo, Acupuncture or Massage?

No, there is no conflict. We recommend mentioning it to your other health care providers to make sure they are aware of your Pilates exercise plan and are ok with you continuing. We are happy to discuss your case with other care providers to help you get the most out of each session and work towards you moving better and feeling stronger.
19. My back or neck is sore and in pain, should I wait until I feel better before coming to Pilates?

Generally the answer is no, you do not have to wait until you are pain free to do Pilates. Our goal is to build muscle strength support the joints that need stabilizing and move the joints that are stuck and need more range of motion. We of course will keep your pain in mind and check in with you throughout your session. Sometimes we can work in a totally different area of the body away from your pain and build in strength and support. We encourage our clients to come to Pilates when they don't feel well because ideally you feel better, become more aligned and move with more ease sometimes leaving with no more pain after a session.