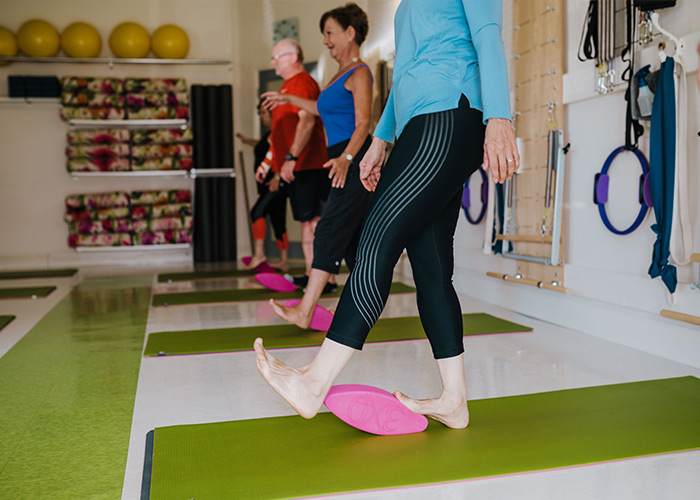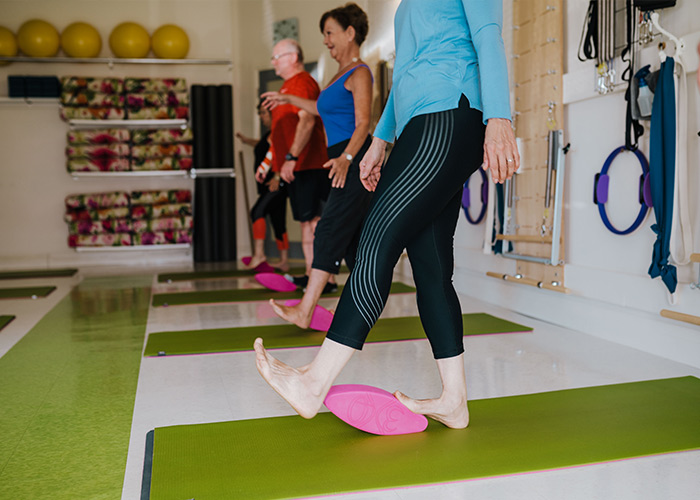 Foundation Mat  
This class is a great opportunity to learn about Pilates and how it can help your posture through efficient movement. Strengthen your core, improve balance, flexibility, body awareness and feel stronger in all your daily activities & sports. Maximum nine participants.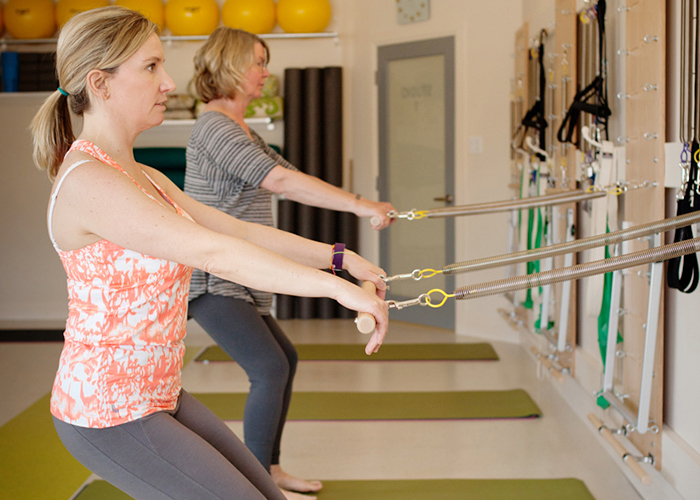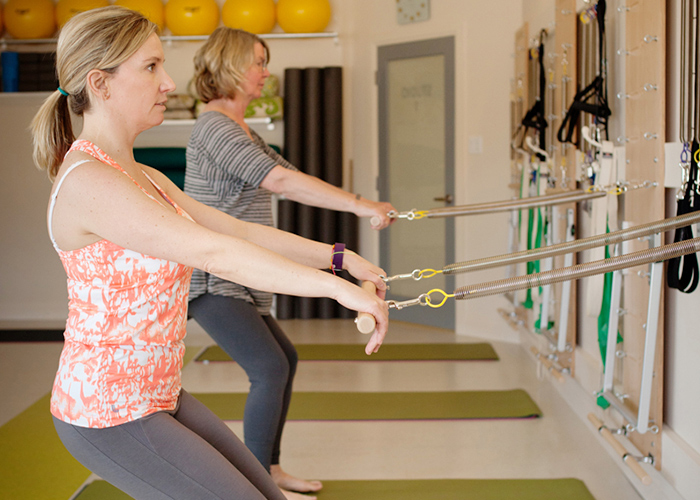 Springboard
Feel the power of the springs! This unique piece of Pilates equipment uses springs as resistance to build strength, core control and balance. Your body will be transformed! Mind body connection, developing limb to core integration and optimizing efficient movement are a part of this basic to intermediate class. Designed for people who have some movement or Pilates experience. A good foundation from mat class or private instruction is strongly recommended to manage the added resistance of the springs and help you get the most out of every exercise. Maximum nine participants.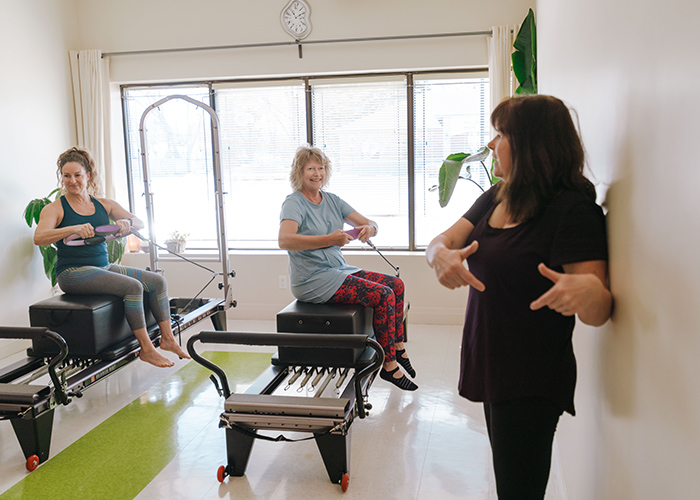 Reformer
Interested in delving deep into the fundamentals of functional movement and biomechanics? Our reformer class, limited to only four participants, is a balanced workout that really starts to challenge how you use your core in relation to the resistance provided by the Reformer machines. You will build on key Pilates principles of core control, fluid motion and coordination, with a perfect balance between strength, efficiency and flexibility.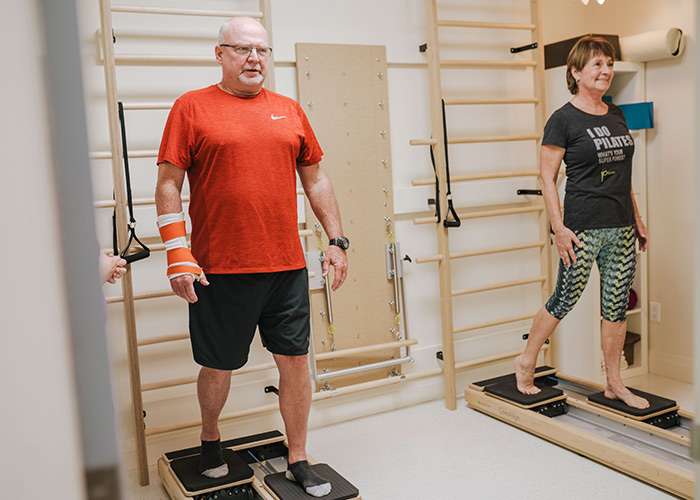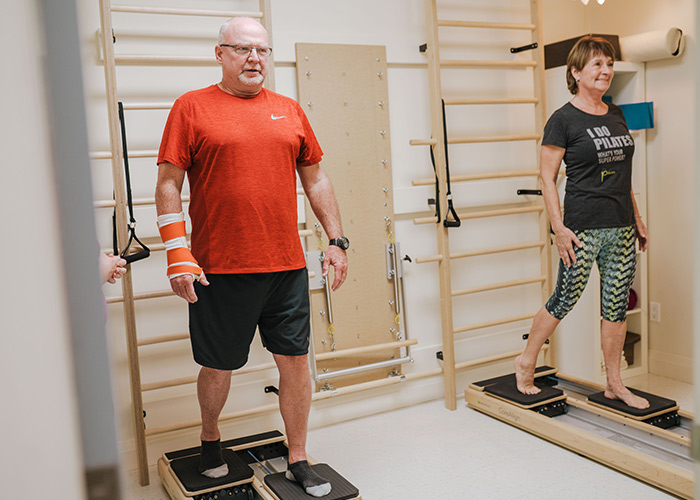 Core Align
Balance Balance Balance! Most exercises are done in standing on this Pilates equipment to emphasize an upright posture and functional everyday movements up to challenging athletic positions.  Overall walking mechanics are addressed.  The movements rehabilitate and strengthen muscles, stimulate core stability and control and improve coordination.  You feel taller, more organized and core centred helping you move better.  Appropriate for all levels.  This equipment is for private or semi private instruction only.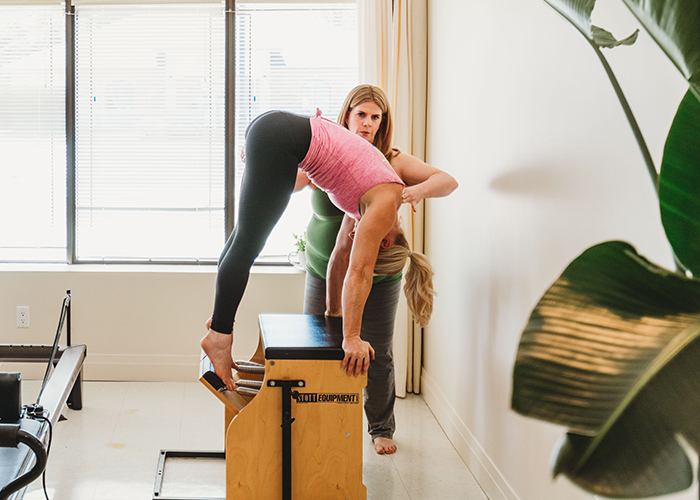 Wunda Chair
(Group Classes – 4ppl)
The Wunda chair was inspired by the pommel horse used in men's gymnastics. Almost every chair exercise is a full body workout that you feel the next day. This equipment is great for learning ideal stair mechanics or uphill walking or hiking and skiing. We love it for all the work done in standing using the spring resisted pedals but you can sit on, lay across it or pull up into a handstand like position.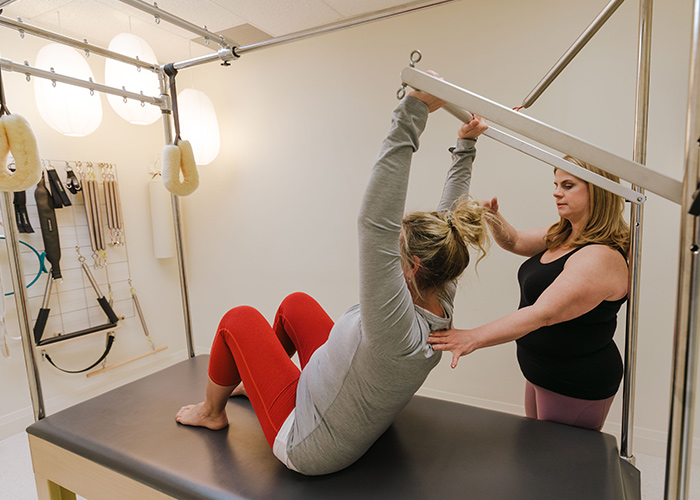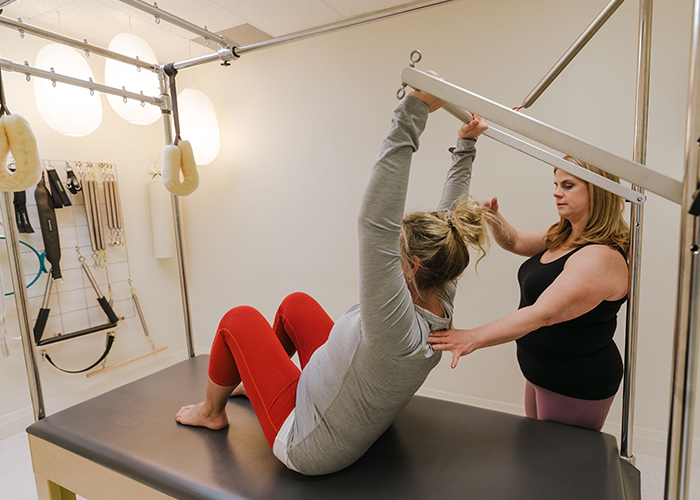 Cadillac
(private sessions only)
This equipment's versatility is unparalled. You can work with a roll bar, push thru bar, hanging trapeze, arm springs, leg springs with at least four different sets of springs of varying lengths and tension. You can work laying down, seated, standing or even hanging upside down!  The table is also a great height if getting down to the mat and working on the floor is an issue. Rehab Pilates often starts on this equipment, don't let the fuzzy straps intimidate you 😉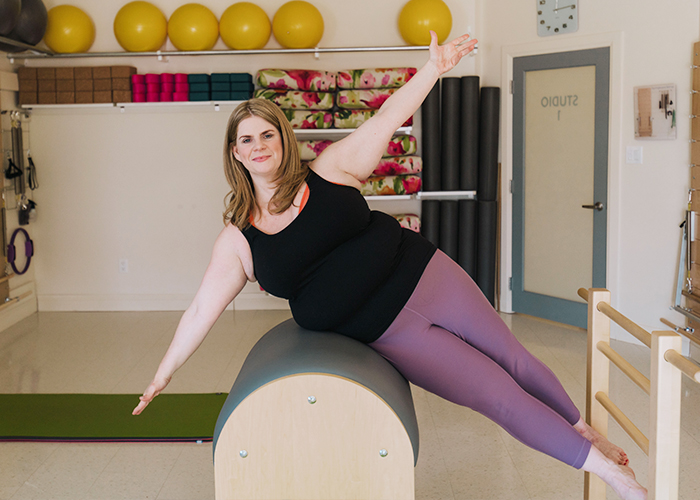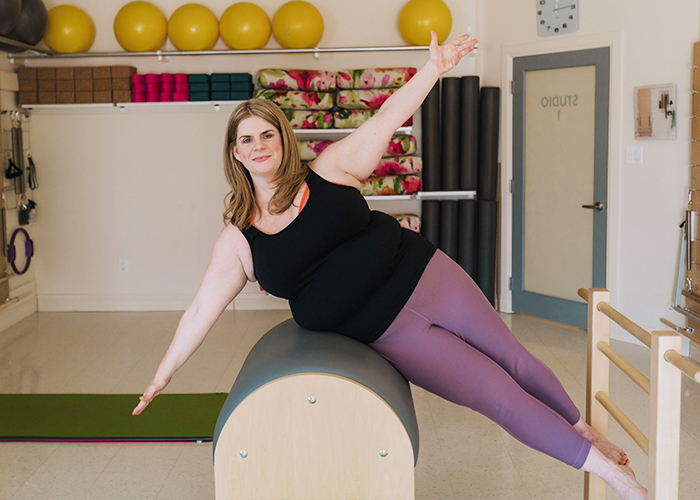 Ladder Barrel & Arcs
(private sessions only)
The Pilates barrells and arcs are designed to restore the natural curves of the spine. The ladder barrel is the only piece of large Pilates equipment that doesn't work with spring resistance, instead you interact with gravity to either increase or decrease the challenge of the exercise. Many of the traditional Pilates mat exercises are modified for the barrel and arcs repetoires, so you may find yourself doing familiar exercises in a new way. Golfers and tennis players love the ease in their spines they have after a session with this equipment.
Rates
SINGLE CLASS PRICE
MAT $25
SPRINGBOARD $25
REFORMER $34
10 CLASS PASS PRICES
MAT $226
SPRINGBOARD $226
REFORMER $327.70
Participation
We require a minimum of TWO participants in the Reformer Class and minimum THREE participants in Mat or Springboard class. If the minimum is NOT met the class will be cancelled 8-12 hours before the scheduled class time. Classes are booked online using MINDBODY. 
**YOU NEED TO SIGN UP FOR YOUR MOVE BETTER ASSESSEMENT TO GET STARTED IN CLASSES
Group Classes
Monday
9:30AM REFORMER
10:00AM SPRINGBOARD
Tuesday
10:00AM REFORMER
5:30PM MAT & SPRINGBOARD
Wednesday
7:30AM SPRINGBOARD
9:30 AM REFORMER
Thursday
9:00AM SPRINGBOARD
10:00AM FOOT & HIP MECHANICS
Friday
10:00AM REFORMER

Saturday
9:00AM REFORMER
10:00AM REFORMER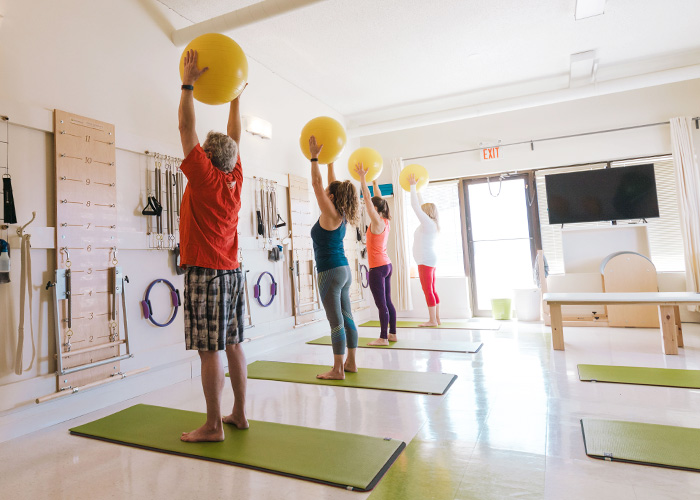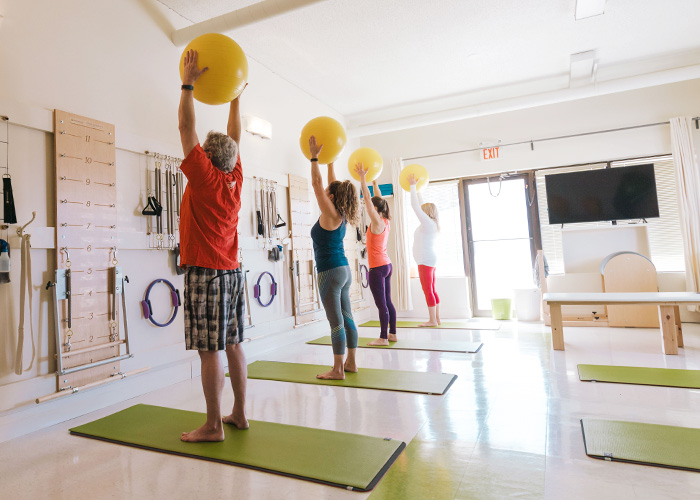 Hours
Office Hours
Monday 8:00AM – 4:00PM
Tuesday 8:00AM – 4:00PM
Wednesday 8:00AM – 1:00PM
Thursday 8:00AM – 4:00PM
Friday 8:00AM – 1:00PM                                                                   Saturday 9:00AM – 12:00PM
Drop in to ask questions, tour the studio, make a payment or book an appointment. If all our instructors are in a session a note pad is provided to leave your contact info and reason for dropping by.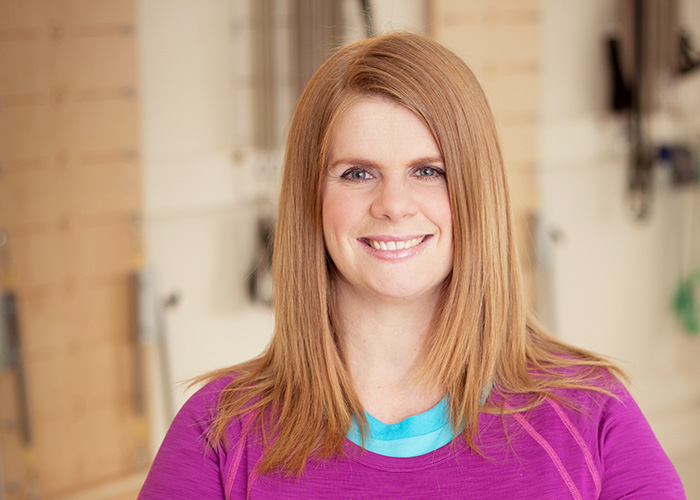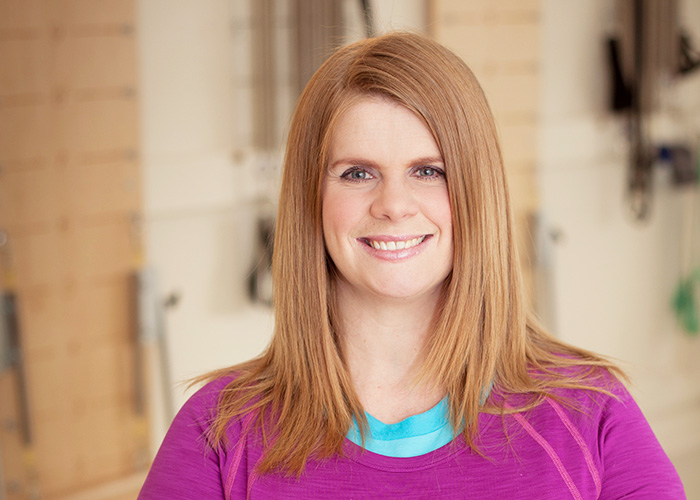 Appointment Hours
Private one on one sessions are booked individually with your instructor. Days and times vary from instructor to instructor and can range from 7AM – 7PM Monday – Saturday.